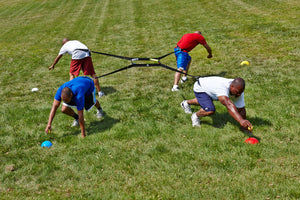 4 WAY TUG OF WAR! It Will Grind you UP! Great for all sports. Gladiator Competition
Regular price $199.95 $169.95 Sale
Similar to Gladiator Competition.

4 Athletes in intense competitive game.

Brand new on the Market

Fun and Effective

Made in the USA! High Quality!

Quality Products Made in the USA! 4 Way Tug of War Developed out of the tradition of Gladiator competition, this is hands down the most intense, demanding competitive or recreational physical challenge ever! Four players going four directions, testing the laws of physics. It will GRIND you up! Comes with: 4 Balls, 4 Cones, 4 Belts, 1 - 4 Way Harness, 8 Snaplinks and 1 Carrying Bag. Does NOT include the outer square edging.